€20,000 to help those in need
31 May, 2023
Claddagh Credit Union gives €20,000 to help those in need.
Towards the end of 2022, Claddagh Credit Union recognised the impact the energy crisis was having and decided that they must act to help those most vulnerable within their community throughout the Winter period.
A decision was made to make an exceptional donation of €20,000, to support the most vulnerable in our community. This was one of the largest donations ever made by Claddagh Credit Union. In order to ensure the money went to those most in need, Claddagh Credit Union asked for the help of the St. Vincent De Paul.  As a result of their work within the community and with the help of their volunteers, a number of people were identified as being in need of some help and the charity dispersed the funding to them. A total of 63 households, 230 individuals were positively impacted by the support received with their electricity or fuel expenses.  All of these people live within our community from Oughterard, Moycullen, Barna and the west of Galway city, including the suburbs.
'We are very grateful for work of the St. Vincent De Paul in helping us distribute this donation and we want to recognise the outstanding work they do here in Galway.' Ted Coyle, Deputy CEO of Claddagh Credit Union.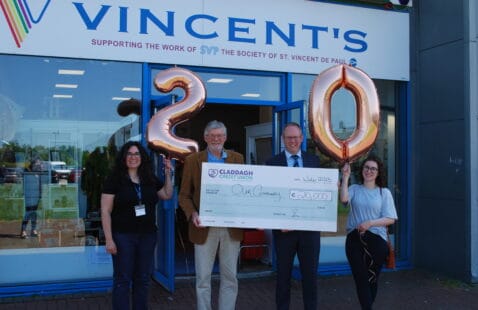 Pictured  here are Ted Coyle, Deputy CEO of Claddagh Credit Union, Agnes Sage Store Manager of the St. Vincent De Paul Westside shop, Seamus McManus Galway Area President and Paula Freney conference President in the Westside area.