No 4 Youth Service
14 June, 2022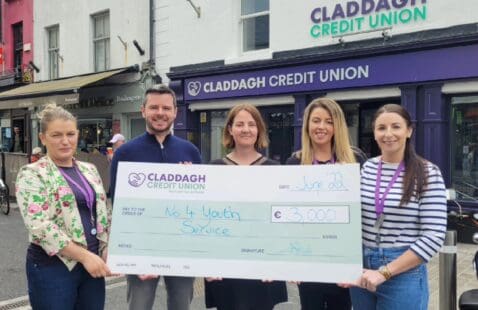 Claddagh Credit Union supporting the Young People of Galway
After the last few covid and lockdown filled years, it has become apparent that more and more young people are requiring medium to longer term counselling due to the complexity of the issues or challenges they are facing in their lives. Claddagh Credit Union has seen this change and was determined to try to help. 'No.4 Youth Service were a charity we had worked with previously and we knew the tremendous resources they offer to younger people so we sat down with the team to see how we could help' said Ted Coyle, Deputy CEO of Claddagh Credit Union. As a result, the credit union have just announced the charity as one of their new project partners for the next 3 years.
No 4 Youth Service provides a range of supports for young people aged 13-25 years in areas of Education, Physical and Mental Health, Homelessness Prevention and Employability.  The demands on their service in the community continue to be many. The project that the credit union will work with the charity on is based on providing additional counselling hours to the young people that use their services.
The counselling support that the charity currently provides is for young people in Galway City and County who may not otherwise be in a financial position to access therapy.  A particular strength of the service is that it is incorporated in the network of youth specialist supports and programmes provided by No.4 Youth Service. Supports include Youth Work, Careers Guidance, Learning Support and Homelessness Prevention.
The counselling services can be availed of by young people aged between 15 and 25 years.  It is a free, (€5 donation) community-based youth counselling service delivered by qualified and accredited counsellors. The service is person centred and needs led in that a young person can avail of both short, medium and longer term support depending on their particular requirements. The service offers a youth friendly and accessible environment to young people. Strong links are maintained with groups and individuals working with young people in the community.
No. 4 Youth Service provided 868 sessions of counselling to young people over the course of 2021, a year which saw a great increase in the demand for the service. This is putting increasing pressure on resources and the waiting list for support is continually growing. As of 1st March 2022, there are 21 young people waiting to see a counsellor. Claddagh Credit Union will help fund additional counselling hours through the charity by means of financial support over the next 3 years in an effort to ease the pressure building on this precious resource.
Find out more about this hard-working charity or make a donation at www.no4.ie
Claddagh Credit Union, your loyal financial partner.